Easy operation and precise label dispensing for a great price
Every label size can be dispensed easily using the HS and VS dispenser. The labels can be stamped or cut without any space inbetween.
You can use any outside shape whether cornered or round. Transparent material can also be dispensed.
Two dispensing directions
Two versions are available so as to ensure that the labels can be removed properly for every use.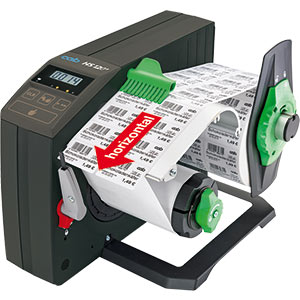 vergrößern
HS Horizontal dispensing direction

for label rolls with bottom leading print image
Peel off the label upwards from its bottom edge and stick it to the product.