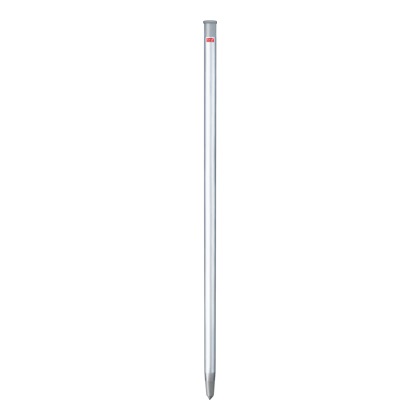 PIPE STAKES (HDZ 45 equivalent specifications)
BRAND :
Takigen
| PRODUCT CODE :
C-486-KT
Get Quotation Now
Features
Stakes simply driven into ground, greatly reducing labor and cost of foundation work.
Tip formed from pointed, hard material, allowing construction even with hard, stone-mixed ground or asphalt.
Easier ground repair when compared with concrete foundations.



Specifications
Material: Pipe: Carbon steel for general structure (STK500)
Head: Hot rolled steel plate (SPHC)
Tip: Carbon steel for machine structure (S45C)
Finish: Pipe: Fused zinc plating (Equivalent to HDZ 45)
Head and tip: Cold galvanizing (Roval? coating)



Specific Use
Stakes in pipe support structure for solar paneling



Remarks
Shipping charges are incurred regardless of total price of product. Please contact TAKIGEN with the delivery address.
Before using, carry out a pull-out strength test or similar test beforehand, to confirm that pull-out strength is maintained.
Construction of a concrete foundation should be considered if the nature of the ground prevents the pull-out strength from being maintained.
Apply Roval? or other repair coating to peeled portions of surface finish after driving stake.



---
Related Products